VCCA France residency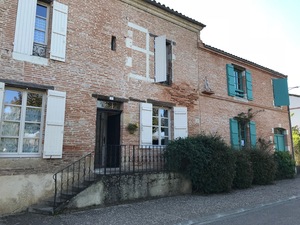 I spent a wonderful residency at VCCA Moulin à Nef in Auvillar, France in early November. Auvillar is charming ancient village on the banks of the Garonne river northwest of Toulouse where I took many walks gathering flowers and inspiration and making new work.
---
Open Studio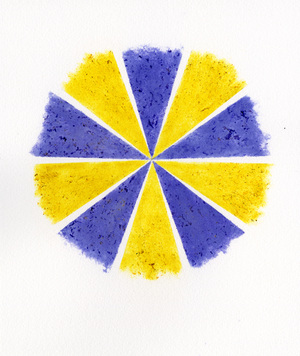 Please join me on Thursday night, October 18, 2018 (from 6:00-9:00) for Open Studios, part of the NYC Garment District Arts Festival. I will be showing some work from my "Daily Paintings" of the sky series as well as collages and flower stain drawings, like the one shown here.

The Garment District Arts Festival takes place October 18-20 (although I'm only there on Thursday night). There are lots of other interesting artists in the building. Visit the 2017 Arts Festival Website for the most up-to-date festival information.
http://garmentdistrict.nyc/arts/arts-festival/
---
Vasari21 article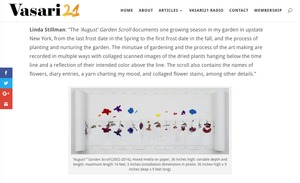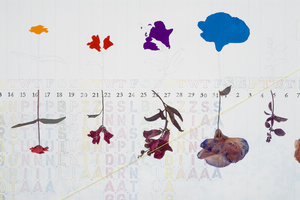 Ann Landi focuses on artists who work with flowers in a post on her website, Vasari21. I appreciate that she included my "'August' Garden Scroll."

https://vasari21.com/say-it-with-flowers-part-one/

Title: 'August' Garden scroll (detail)
Dimensions: 36 inches high; variable depth and length
Medium: mixed media on paper
Date: 2002/2016
---
"Among Friends" show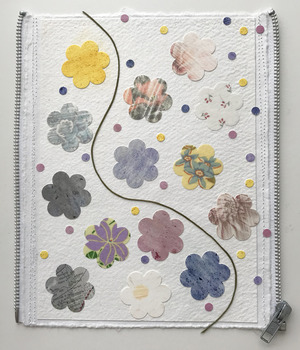 I am thrilled to have my collage included in AMONG FRIENDS, a group show organized by Alexandra Rutsch Brock, Beth Dary and Patricia Fabricant.

Inspired by the Robert Rauschenberg artwork "Hiccups", seen last summer in the "Among Friends" exhibition at the Museum of Modern Art, AMONG FRIENDS reflects and responds to the strength and illumination we find through art, friendship and community.

The show consists of more than 100 pieces of 9x7-inch handmade paper, each worked on by a different artist, zipped together into one continuous, exuberant piece.

Each individual piece is for sale for $250, with 10% going to Planned Parenthood.

Saturday and Sunday, April 28 and 29, 1 to 6 pm
In conjunction with DUMBO Open Studios
55 Washington Street, Studio 257, 2nd floor

Instagram: #amongfriendsshow
Facebook event: https://www.facebook.com/events/101231684067477/


above: "Among Friends: Spring"
9.5 x 7.5 inches
mixed media on paper
---
"True North" exhibition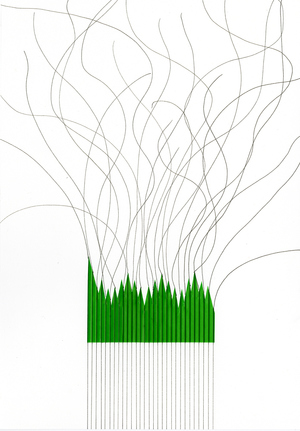 TRUE NORTH opens at LABspace this Saturday, April 7th, 4-7pm

LABspace is pleased to invite you to the opening reception of True North, an exhibition and happening organized by Julie Torres.

True North is a survey and celebration of upstate NY and surrounding area artists who are connected and engaged at the local level — professionally and socially in real time, IRL.

By mapping out this vast visual record of area art makers we hope to strengthen and expand our community, and bring focus to the exciting work being made close to home.

Area artist and curator Julie Torres wallpapers the walls with small works on paper from nearly 200 area artists, and those who have been active at LABspace via past exhibits and events. All work on view has been selected with artist-friendly pricing in mind.

LABspace is dedicated to experiments in curation, exhibiting category-busting and/or materially surprising contemporary art, and hosting performance art, screenings, readings and music that push the boundaries of categorization, participation and/or experience.

LABspace is located on NY Rt 23 just west of NY Rt 22 in Hillsdale, NY (Columbia County.) The gallery is located behind and downstairs from CrossRoads Food Shop.

Visit LABspace on Saturdays, 1-5pm, beginning April 14.
True North is on view through May 2018.

2642 NY Rt 23
Hillsdale, NY 12529
Julielabspace@gmail.com

Above:
Linda Stillman, "Grass for Sol II," 10 x 7 inches, mixed media on paper, 2015

---
"Nature Lab" exhibition in Hillsdale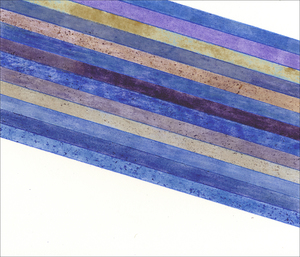 One of my flower stain drawings, "The Blues" is included in this group exhibition. "Nature Lab"
curated by Eric Wolf
LABspace Gallery
2462 NY Rt 23
Hillsdale, NY 12529
February 17 to March 17, 2018
Hours: Saturdays, Sundays, 11- 5 pm
and by appointment (646) 567-9681
labspaceart@gmail.com
Opening reception: Saturday, February 17, 2 - 5 pm
Closing reception on Saturday, March 17,

2 - 5 pm
---
"Matereality" show in Great Barrington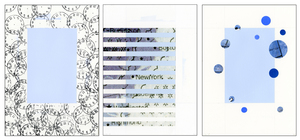 Some of my "Daily Paintings" of the sky are in this dynamic group show.
"Matereality"
Geoffrey Young Gallery
40 Railroad Street
Great Barrington, MA 01230
A Muskat/Knoll Production
413.404.6060 / theknolls3@gmail.com
February 3 to 25, 2018
Hours: Fridays to Sundays, 11- 5 pm
Reception: Saturday, February 3, 5 - 7pm
---
Article in "Penn Gazette"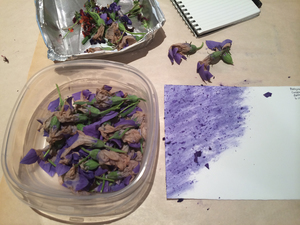 Thanks to Molly Petrilla for her thoughtful story on my work with flower stains.
"Pausing Nature"
http://thepenngazette.com/pausing-nature/


Shown here are Platycodon flowers and the stains I made with the petals for my collages.