Artist's Talk & Demonstration of flower stain technique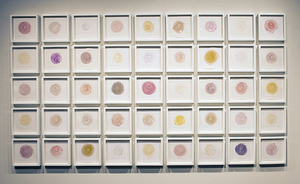 On Sunday, July 20 at 2 pm I will talk about my installation at the "Worlds of Wonder" exhibition at the Dorsky Museum and give a demonstration of how I use flower petals to make drawings. Please join me at SUNY New Paltz!
---
Floribunda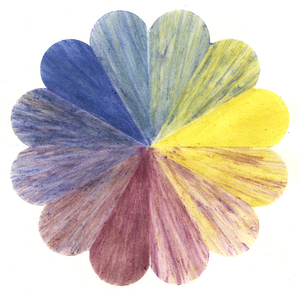 A show of my drawings with flower stains is at the Davis Orton Gallery in Hudson, NY.
Linda Stillman: "Floribunda"
Davis Orton Gallery, 114 Warren Street, Hudson NY 12534
Exhibition Dates: June 27 to July 27, 2014
Gallery hours: Friday to Sunday, noon to 6 p.m. and by appt.
Reception: Saturday, June 28, 6 to 8 pm
---
Dorsky Museum exhibition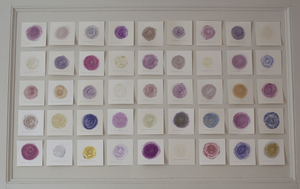 My installation of 45 drawings, "Wave Hill Diary" is included in this group show.
"Worlds of Wonder: Hudson Valley Artists 2014"
Curated by Ian Berry, Director of the Tang Museum at Skidmore College
June 21–November 9, 2014
Samuel Dorsky Museum of Art
SUNY New Paltz. 1 Hawk Drive, New Paltz, NY 12561
Opening reception: Saturday, June 21, 5 – 7 pm
My artist talk/demonstration: Sunday, July 20, 2 pm
Museum hours: Wednesday – Sunday, 11 am – 5 pm
August 2 – 24: open Saturday – Sunday only
---
Daily Paintings at Westbeth Gallery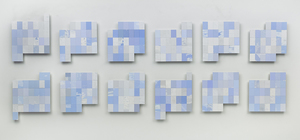 "Daily Paintings, detail: 2011" is on view at the Westbeth Gallery in the group show, "TIME FRAMES MARKING TIME"
May 24 – June 15
WESTBETH GALLERY 55 Bethune St, New York, NY 10014
Gallery Hours: Wednesday – Sunday, 1-6pm; Closed Mon. & Tues.
curated by Elisa Decker and Barbara Lubliner. For details about events and the list of artists, go to the Westbeth Gallery website.
---
Exhibition at Wave Hill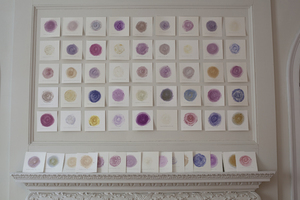 I'm pleased to have my work included in "Prickly, Tender and Steamy: Artists in the Hothouse" at Wave Hill, curated by Gabriel de Guzman & Jennifer McGregor
April 8 – May 18, 2014
Opening reception April 12, 1– 4PM
Artists' Talk at 2:30
Wave Hill

675 West 252nd Street, Bronx, NY 10471