Fuzzy Logic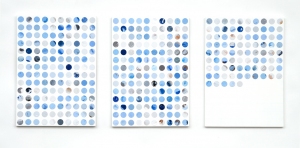 My triptych, "More Characters of the Sky," was included in the exhibit "Fuzzy Logic, Contemporary Painting after a Century of Abstract Art 3/3," at the Thompson Gallery at the Cambridge School of Weston, Weston, MA
Curated by Todd Bartel
through June 17, 2010
---
Solo exhibtion at NY Public Library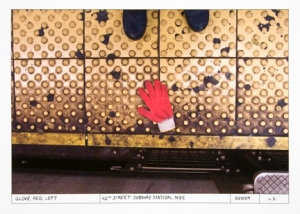 "Found New York"
Photographs by Linda Stillman
May 1 to July 14, 2010
Mid-Manhattan Library, The Art Collection
40th Street and Fifth Avenue, 3rd floor
New York, NY 10016
212-340-0871

Above image: Glove, red, 42nd Street subway station, NYC
archival pigment print
19 x 24 inches

In this series of photographs, mixed-media artist Linda Stillman documents lost objects she finds on the streets of New York City. These images document her personal everyday journey and reference the unknown story behind these lost belongings. Formatted as documents, the photographs are hung in a grid, forming an archive of the everyday. They reflect Stillman's interest in overlooked objects and fleeting moments of experience, and the ways in which they are collected, preserved and remembered. The exhibition series "Art Wall on Third" is curated by Arezoo Moseni.